[Photo] Inspired by the public testimony of fellow "comfort woman" survivor Kim Hak-soon in 1991, Park registered herself on the survivors' list in 1993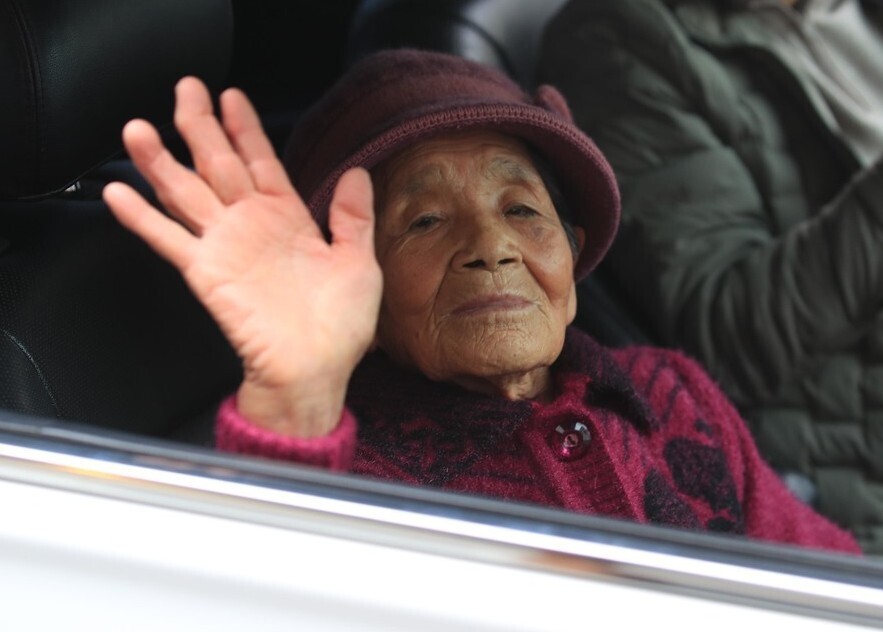 Park Pil-geun waves goodbye as she leaves the Museum of Military Sexual Slavery by Japan in Daegu. (Park Jong-shik/The Hankyoreh)
"It's almost time for me to go."
At 95, Park Pil-geun is in the final years of her life. She is currently the only survivor of wartime sexual slavery by the Japanese military who is still living in the North Gyeongsang Province region.
At the age of 16, Park was taken by force to Japan, where she worked at a factory before eventually being forced to work at a "comfort station."
Eighty years later, the memories still torment her. She also still bears visible scars on her leg from a beating she received after being caught in an escape attempt.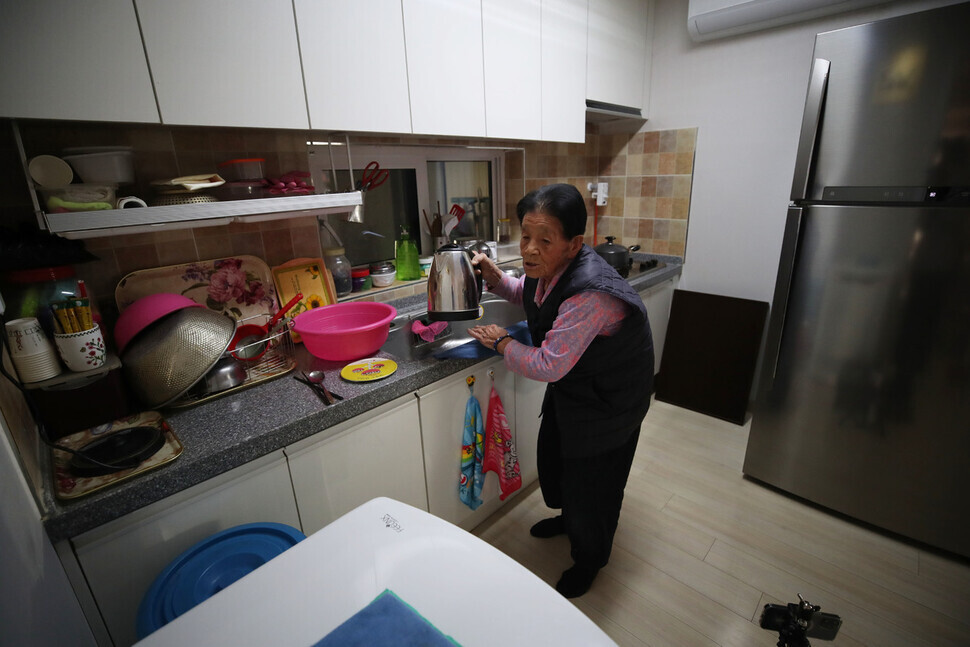 Park Pil-geun prepares a pot of tea for visitors at her home in northern Pohang. (Baek So-ah/The Hankyoreh)
Park risked her life in two escape attempts before she was finally able to return home around February 1945, with the help of a Zainichi Korean married couple. After her return, she married her husband, only to lose him at a relatively young age.
Among her seven children, five have passed away. To support the remaining children, she worked until her knuckle bones jutted from her fingers.
Now suffering from impaired mobility, Park plays cards to pass the time on her own. Visitors to her home in the Juk township in northern Pohang will always play a game with her before they head on their way. It's her simple way of expressing her affection.
Inspired by the public testimony of fellow "comfort woman" survivor Kim Hak-soon in 1991, Park registered herself on the survivors' list in 1993. The support of her own children was also instrumental in helping her summon the courage.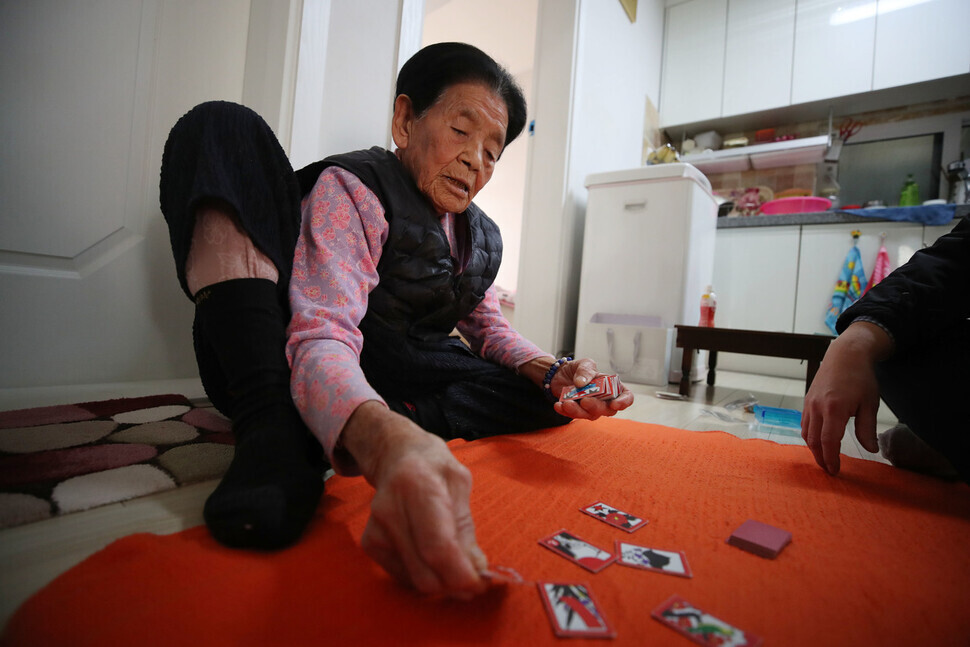 Facing mobility issues, Park Pil-geun spends much of her time playing cards, and playing a round is a must for visitors to her home. (Baek So-ah/The Hankyoreh)
Since her registration, supporters of military sexual slavery survivors have been a source of comfort for her in her pain. Members of the Pohang Women's Association and the Daegu Citizens' Forum for Halmuni have periodically stopped by to keep her company.
Of the 240 victims of Japanese military sexual slavery registered with the South Korean government, 10 are still alive today. Their average age is 93.6.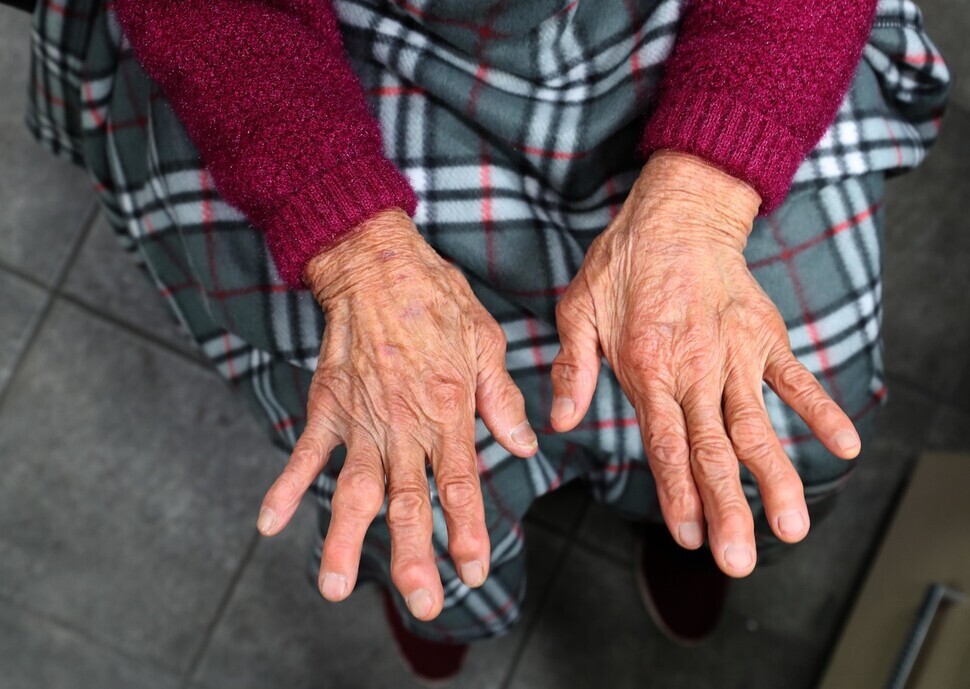 Park Pil-geun's hands have become knobby over the years of hard work. (Park Jong-shik/The Hankyoreh)
With the Yoon Suk-yeol administration's active efforts to restore relations with Tokyo, there has been little activity by the South Korean or Japanese governments to resolve the "comfort women" issue.
Under the Moon Jae-in administration, Minister of Foreign Affairs Kang Kyung-wha and Minister of Gender Equality and Family Chung Young-ai came by several times, but no one has been to visit since the new administration took office, said Park's daughter-in-law.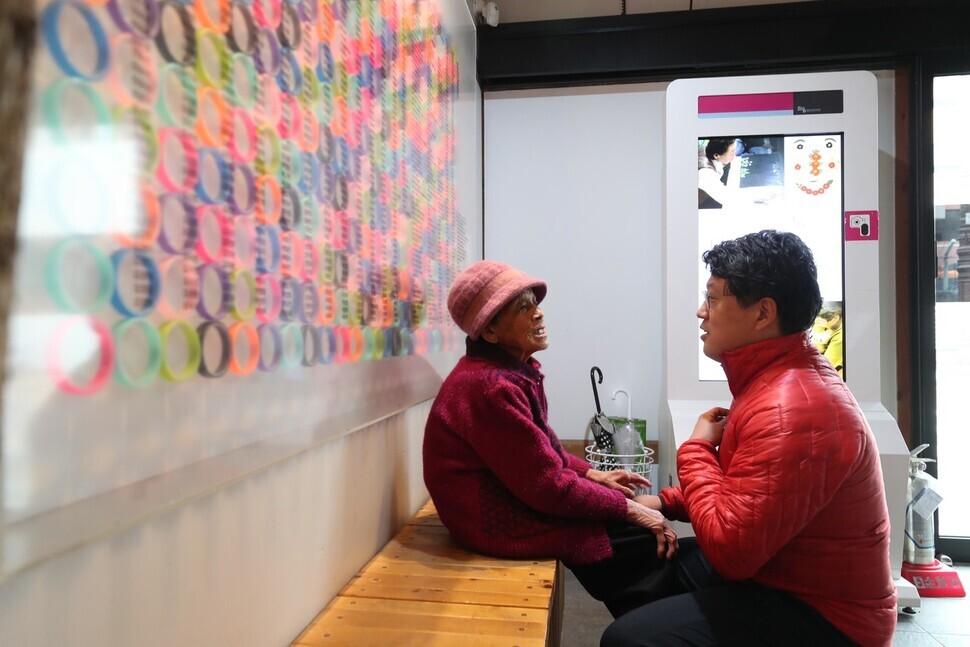 Park Pil-geun speaks with Seo Hyeok-sin, the president of the Daegu Citizens' Forum for Halmuni, a group that advocates for former "comfort women," at the Museum of Military Sexual Slavery by Japan in Daegu. (Park Jong-shik/The Hankyoreh)
Park's wish is to "get an apology and compensation from those Japanese bastards." Will it ever come to pass during her lifetime?
By Park Jong-shik, staff reporter; Baek So-ah, staff reporter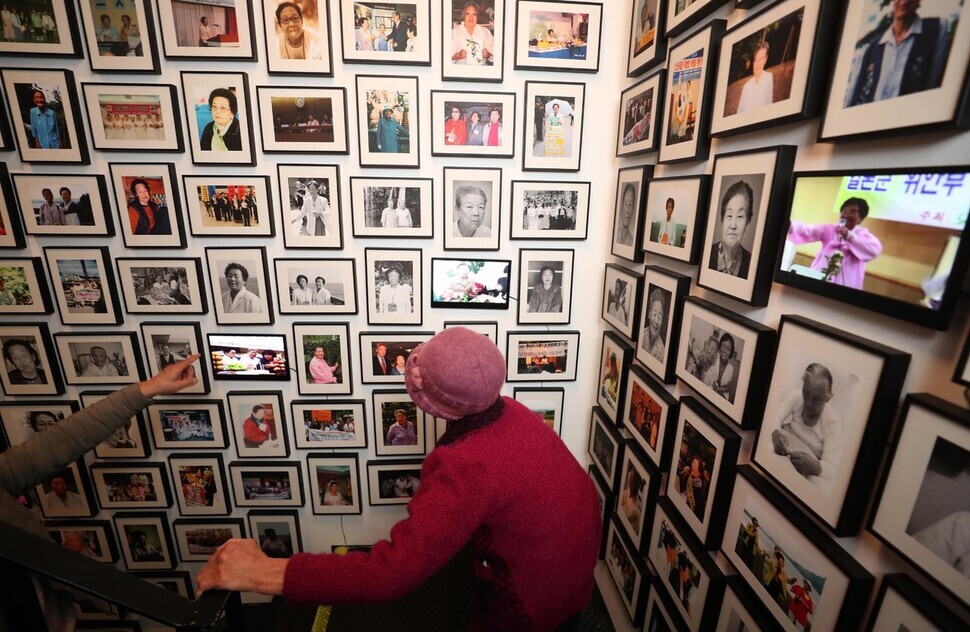 Park Pil-geun looks at photos of fellow survivors of Japan's military-sponsored sexual slavery at the Museum of Military Sexual Slavery by Japan in Daegu. (Park Jong-shik/The Hankyoreh)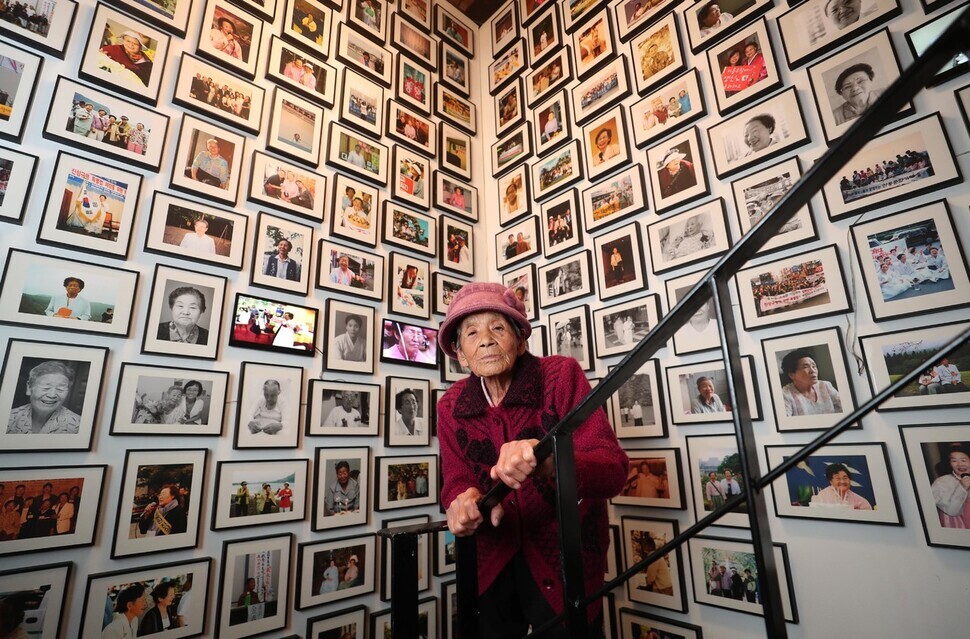 Park Pil-geun stands before a wall of photos of fellow survivors of Japan's military-sponsored sexual slavery at the Museum of Military Sexual Slavery by Japan in Daegu. (Park Jong-shik/The Hankyoreh)