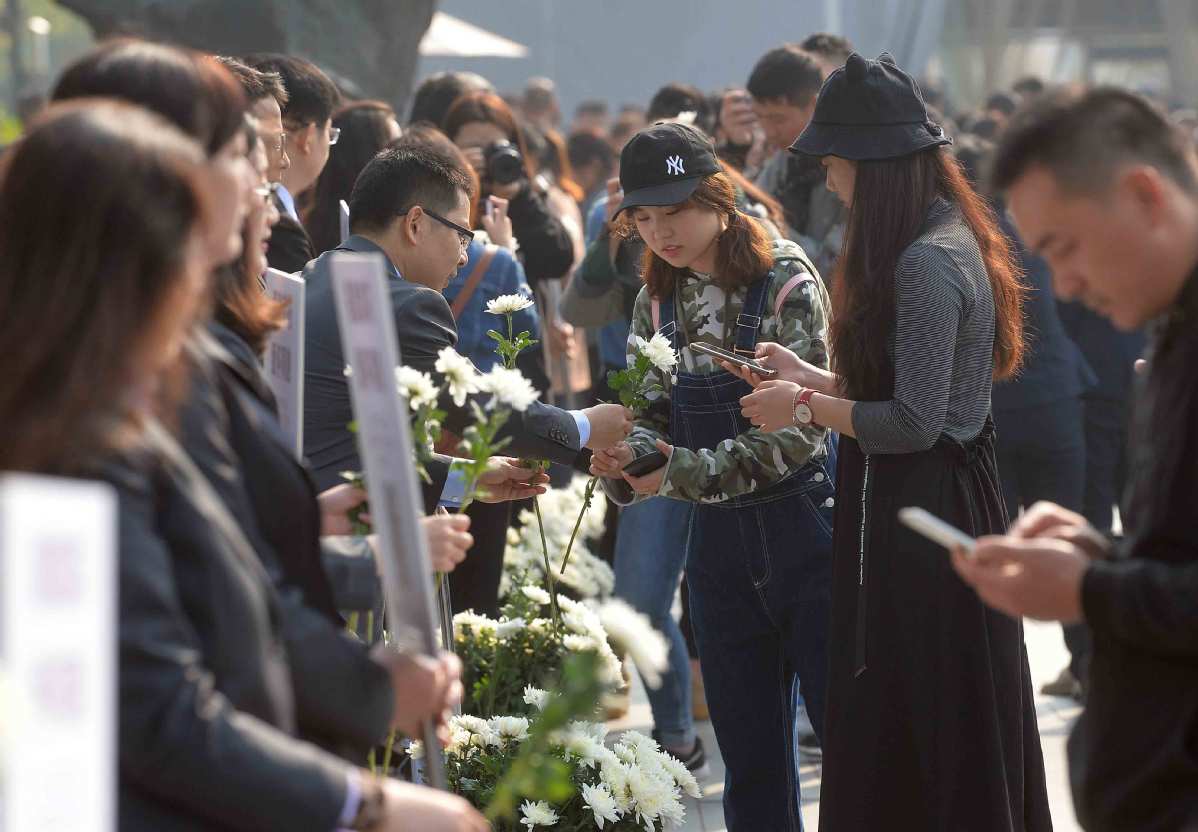 Staff members at the Memorial Hall for the Victims of the Nanjing Massacre by Japanese Invaders offer white chrysanthemums to visitors on Friday. Many visitors made donations to survivors of the massacre and to surviving comfort women. WAN CHENGPENG/FOR CHINA DAILY
Thousands of visitors donated money to help the survivors of the Nanjing Massacre and to so-called comfort women in Nanjing, Jiangsu province, during the Tomb Sweeping Day holiday.
After donating money by scanning a QR code provided by staff members at the Memorial Hall for the Victims of the Nanjing Massacre by Japanese Invaders, visitors received white chrysanthemums to commemorate the dead.
The term comfort women refers to women and girls who were forced to provide sex to the Japanese army during the country's military invasions of the twentieth century.
A total of 9,788 people donated more than 101,000 yuan ($15,000) in three days by scanning the QR code. Some people also chose to donate cash.
"The money will be used on the medical and funeral expenses of comfort women and massacre survivors," said Zhang Jianjun, curator of the memorial hall. "We also arrange physical examinations and buy presents for them during the holidays. The expenditure will be published on the memorial hall's official website.
"Most of the survivors are in their nineties and have health problems. It's our responsibility to help them receive better medical services and live happier lives."
He said the memorial hall received donations of about 1 million yuan last year, which could help improve the lives of massacre survivors.
"We added comfort women to the list this year and hope that more people will support and help them," Zhang said.
During the Tomb Sweeping Day holiday, more than 132,500 people visited the memorial hall. During peak periods, visitors had to wait in line for two hours to get inside.
A woman surnamed Gao, accompanied by her two sisters, donated 11,000 yuan after visiting the memorial hall on Friday.
"I'm a farmer from Hebei province and I want to help people with the money I earned," she said.
The Nanjing Massacre was a murderous slaughter that followed the capture of Nanjing, China's capital at the time, by invading Japanese troops. It started on Dec 13, 1937, and continued savagely for six weeks. About 300,000 Chinese civilians and unarmed soldiers were killed.
According to the memorial hall, six Nanjing Massacre survivors died this year. The number of survivors known to the public has declined to 85.
Also, the number of comfort women in China has declined rapidly. According to Beijing Daily, more than 10 registered comfort women were alive as of August.
Zhang said the memorial hall has cooperated with the renowned Jiangsu Province Hospital to provide medical services to the survivors and comfort women.
"We also ask volunteers to spend more time with them and make them feel that people care about them," Zhang said. "We'll encourage them and their descendants to give oral testimony so that more people will remember the history."
By CANG WEI, China Daily