Elizabeth Son is reluctant to call herself an activist.
"I've witnessed the blood and sweat of activists out in the streets," the theatre professor says. "Activism is something I teach and research, and it's definitely something I want to cultivate, but I'm not sure I've earned that label yet."
Son studies gender-based violence worldwide, and the ways those histories are portrayed in contemporary theatre and social performance. Her classes focus on the ways in which performance can engage with political and social issues to advocate for justice at home and abroad.
For the last decade, Son has focused on the so-called "comfort women": the estimated 200,000 women from Japan, Korea and elsewhere who were coerced or kidnapped into sex slavery for the Japanese military between 1932 and 1945.
Son says the "comfort women" represent the largest case of state-sponsored trafficking of women in the 20th century, and the Japanese government has never officially recognized or adequately redressed this history.
An echoing impact
What happened to these women? How was this system allowed to persist for years? Where are these women now? Son traveled to South Korea to answer these questions and more, interviewing many of the women themselves. Hearing their stories, Son was surprised to learn how many survivors had become leading advocates.
"The 'comfort women' have really been at the forefront, not only testifying about their history, but also supporting other women who are survivors of different experiences of gender-based violence," Son says.
Every Wednesday for almost 30 years, according to Son, "comfort women" survivors and others have protested outside the Japanese embassy in South Korea. The "comfort women" are now in their 90s, and many of them have died since the weekly protests began. But still, Son says, there are one or two who show up.
"These 'comfort women' regard their supporters and fellow protesters as part of their family," Son says. "They refer to their supporters as their 'descendants,' who will continue to fight against gender-based violence long after they're gone."
In 2018, Son published "Embodied Reckonings: "Comfort Women," Performance, and Transpacific Redress." The book details the experiences of real-life "comfort women" and how these women, their supporters and artists, beginning in the 1990s, started telling the women's stories and demanding justice through protests, tribunals, theatre and memorial-building projects.
Following the book's release, Son traveled to South Korea to attend a protest in Seoul. And sure enough, one of the women who protests weekly with her "descendants" was there. Son later shared her book with this woman, who leafed through the pages before looking up at Son:
"Is this for me?" the woman asked.
Son nodded through tears, more emboldened than ever to share the stories of the "comfort women" and gender-based violence victims worldwide.
The unending fight
Son has since contributed to "The Apology," a PBS documentary on the "comfort women." She is also working with a Chicago-based women's advocacy organization called KAN-WIN. Working primarily with survivors of domestic abuse and sexual assault in Asian communities, KAN-WIN is committed to fighting violence against women in all forms. The organization recently asked Son to help a domestic abuse survivor prepare to share her story at an annual benefit dinner.
"It was a really big deal for this woman to tell her story, because there is a great deal of stigma around talking about domestic abuse in her community," Son says. "And it was an amazing experience to hear her story and her reasons for speaking up now. She has since become a mentor to younger survivors."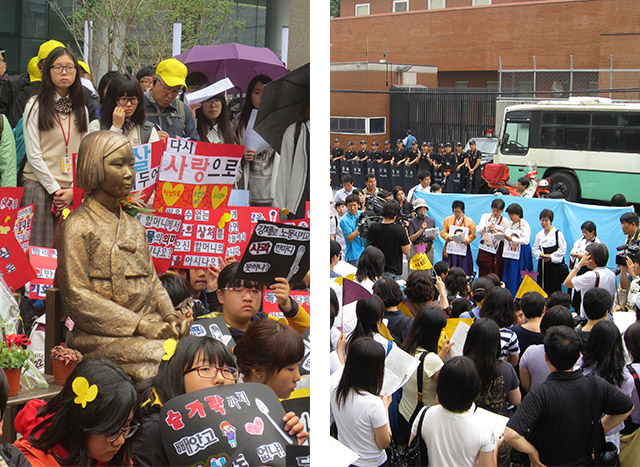 The life-size "comfort woman" statue (left); activists protest outside the Japanese embassy in Korea (right)
Son hopes to work with KAN-WIN on an oral history project, which would include interviews with survivors, activists and artists. Using a central tool of theatre — storytelling — Son hopes to document their experiences, shatter stigma and prevent the present from repeating the past.
"Some may call my work activism," Son says. "No matter what you call it, I will continue to be at those protests, and I will continue to fight for justice in my teaching, my research and the way I live my life."
By Clare Milliken, Northwestern